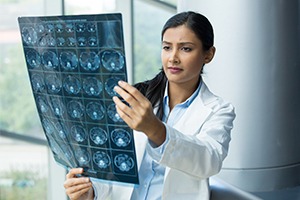 At Harlequin Recruiting, we understand the challenges healthcare organizations face–economically, competitively and logistically–when they need to bring in a top-tier specialist. The organization's financial and marketplace success depends on ensuring the right mix and depth of clinical services to meet the region's needs. At the same time, chronic shortages in high-demand specialties such as neurosurgery make recruiting difficult.
Our experienced team helps your organization negotiate this challenging environment. Harlequin is committed to ensuring that you hire the best candidate, while protecting the significant financial investment that recruiting and onboarding entail.
This approach enables us to enhance our clients' own recruitment capabilities and serve clients in a range of capacities.
Resourceful—and Connected
As a leading, well-established physician recruiting and publisher of the quarterly publication Neurosurgery Market Watch, Harlequin Recruiting brings market expertise and extensive resources. We have continually expanded our capabilities over more than a decade serving hospitals, health systems and practices.
Our team enjoys solid relationships with top organizations and physician leaders. These connections, and our deep experience, give our team extensive insight into the specialties and markets we serve.
Streamlined, Needs-Focused Process
At Harlequin Recruiting, we streamline candidate selection activities process to target our clients' specific needs. We ensure that our clients' requirements are in sync with candidate physicians' needs. This means that the candidates that we present are eager to be considered and responsive to arranging interviews and site visits.
How We Work
We use a collaborative approach to establish key search parameters and identify several qualified candidates.
We are efficient, market savvy and equipped to respond quickly and professionally to clients' and candidates' needs.
We provide services on a contingency basis, enabling us to deliver premium services without charging premium fees.
Harlequin Recruiting takes a professional, dynamic approach to identifying, sourcing, and presenting only highly qualified physician candidates. Based on our successful results in serving more than 100 clients, Harlequin has developed a well-deserved reputation for providing excellent, high-value service.
Our Recruiting Methods
Provide in-depth client consultation on the practice opportunity, facility and community demographics.
Source, identify, recruit and select qualified candidates.
Conduct thorough, timely candidate screening.
Manage presentation, site-visit coordination, interview preparation and post-interview/site-visit follow-up.
Work with clients at their preferred involvement level throughout the offer and contract- negotiation process.
Ensure systematic follow-up during the transition and guarantee period.